1.2 million perform Friday prayers at Grand Mosque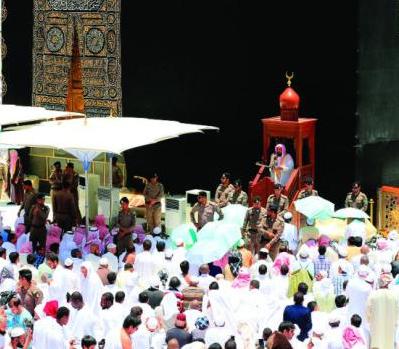 Take advantage of Ramadan and put in the best efforts to be close to Allah, Al-Sheikh Saleh Al-Taleb exhorted Muslims at the Grand Mosque in Makkah during his Friday sermon. As many as 1.2 million Muslims performed the congregational prayers at the mosque.
Director of Media and Communication General at the General Presidency of the Two Holy Mosques, Ahmed bin Mohammed Al-Mansouri, said the presidency has created an integrated system of services, including cleaning, maintenance and operation at the Grand Mosque.
"The presidency provides guidance in all languages through its offices to answer the queries of pilgrims. It has also provided one million copies of the Holy Qur'an at the mosque. King Abdullah Project for Translation of Friday sermons with sign languages is also helping many," he said.
According to Al-Mansouri, the presidency has organized the entry and exit of worshipers through 160 gates, leading to the Grand Mosque with a dozen electric escalators and 10,000 free trollies for the disabled.
"The Grand Mosque has 17,000 carpets. A special service is provided to pilgrims for their luggage at nominal rates, which helps them avoid carrying the same inside the mosque." There are 250 fans to mitigate the summer heat in the courtyards of the Grand Mosque.
The presidency has taken advantage of the three phases of the Custodian of the Two Holy Mosques King Abdullah Expansion Project to raise the capacity of Al-Mataf, in addition to northern yards Ajiyad Bridge which has been linked to the first floor of the third phase of the expansion project, Al-Mansouri added.