12 killed as Israel rains death on Gaza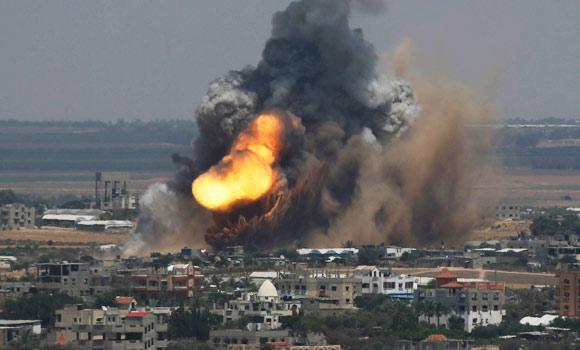 Israeli strikes on Gaza killed 12 people on Tuesday and wounded 80 others, the emergency services said, as the military began an aerial campaign against militants in the Strip.
It was the most serious flare-up in and around the Palestinian territory since November 2012, and came as Israel's cabinet reportedly authorized the army to call up 40,000 reservists for a possible assault on Gaza.
In the worst strike, a missile slammed into a house in the southern city of Khan Yunis killing seven people and wounding 25 others, medics said.
The attack "targeted the house of the Al-Kaware family," emergency services spokesman Ashraf Al-Qudra told AFP, saying children were among the injured.
Witnesses said a drone launched a warning flare, prompting relatives and neighbors to gather at the house as a human shield, but shortly afterwards an F-16 fired a missile which levelled the building.
Earlier, four people were killed in a separate strike on a car in the Daraj neighborhood in the center of Gaza City, Qudra said.
Hamas's Al-Aqsa TV showed gruesome images of charred body parts being loaded onto ambulance stretchers.
Family members said all of them were Hamas militants, identifying one as Mohammed Shaaban, 32, a senior commander in Hamas's armed wing, the Ezzedine Al-Qassam Brigades. He was also head of the group's naval operations, they said.
Israel's army confirmed targeting Shaaban, describing him as "a senior Hamas operative."
In a separate strike near Nusseirat refugee camp, another man was killed, with witnesses telling AFP he was also a Hamas militant.
Hamas spokesman Sami Abu Zuhri warned Israel was "playing with fire" and would pay for its ongoing operations.
The deaths came hours after Israel announced the start of Operation Protective Edge, a military campaign aimed at stamping out rocket fire on southern Israel and destroying Hamas's military infrastructure.
Army figures show that since midnight, militants have fired 130 rockets at southern Israel, while the air force struck 150 "terror targets" in Gaza.