14 million children suffering from Syria and Iraq wars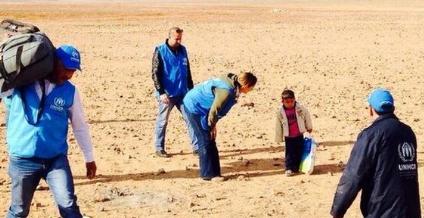 As many as 14 million children in the war-wracked Iraq and Syria are suffering, with the ongoing conflict scarring their futures, the U.N. children's agency said in a statement released Thursday.
"As the crisis enters its fifth year, this generation of young people is still in danger of being lost to a cycle of violence – replicating in the next generation what they suffered in their own," said UNICEF director Anthony Lake.
His comments were echoed by U.N. Secretary-General Ban Ki-moon, who also stressed the need to bring to an end to the conflict in Syria and stop the "nightmare of suffering" for those in the region.
The situation in Syria, which is now in its fifth year, remains the most desperate, the press release noted, with 2.6 million Syrian children still out of school, and 5.6 million affected by the violence.
On the same day, aid agencies said that 2014 was the worst of the Syrian conflict so far and that three United Nations Security Council resolutions aimed at alleviating the suffering had failed.
In a report entitled "Failing Syria", 21 human rights organizations slammed world powers for not implementing a series of UN Security Council resolutions on the crisis.
It criticized both rebels and regime forces for indiscriminately targeting civilian infrastructure, including schools and health facilities, and for limiting access to civilians in need.
The report, whose signatories included Oxfam, International Rescue Committee and Save the Children, said 4.8 million Syrians live in areas defined by the United Nations as "hard to reach" for aid deliveries — almost twice as many as in 2013.
But as needs have increased, funding has not kept pace. Only 57 percent of the money needed to support Syrian civilians and refugees was provided in 2014, down from 71 percent in 2013.
Jan Egeland, secretary general of the Norwegian Refugee Council, which contributed to the report said that in the coming year, the U.N. will need roughly $8.4 billion in aid for Syrian civilians.
"It's one-sixth of the cost of the 2013 Sochi Olympics – so how could Russia afford the Sochi Olympics, but cannot afford sizeable contributions for this underfunded operation," he asked.
Syria's crisis, which pits President Bashar al-Assad alongside allies against a hodge-podge of divided rebel groups, started in March 2011 with protests against the government and descended into a civil war that has killed more than 210,000 people.