18 migrants found hiding in truck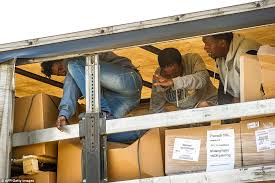 Eighteen migrants have been found stowing away in a lorry on a British motorway, police said on Sunday.
The migrants were found after the lorry was stopped on Saturday by police on the M1 near Flamstead, north of London, 178 kilometres northwest of Folkestone, where Britain's Eurotunnel cross-Channel terminal is located.
The driver of the truck, a 40-year-old man from Poland, has been arrested on suspicion of assisting people entering the country unlawfully.
Officers were alerted by a member of the public who reported seeing suspicious activity on the lorry, Hertfordshire Police said.
"Eighteen people who are believed to have entered the UK illegally on the lorry were taken into custody for their safety," they added in a statement.
Traffic police tweeted a picture of the migrants sitting on the ground next to a parked lorry loaded with cargo, apparently at a motorway service station.
A spike in the number of migrants trying to cross the Channel Tunnel from France to Britain has pushed the issue to the top of the political agenda.
Foreign Secretary Philip Hammond warned on Sunday that living standards in Europe could not be sustained if "millions" of migrants from Africa arrived.
"As long as the Europe Union's laws are the way they are, many of them (migrants) will only have to set foot in Europe to be pretty confident that they will never be returned to their country of origin," he told the BBC.
"Now, that is not a sustainable situation because Europe can't protect itself and preserve its standard of living and social structure if it has to absorb millions of migrants from Africa."
Britain is the sixth most popular country for asylum applications in the European Union, with 31,745 in 2014 compared to 202,645 for top-ranked Germany and 62,735 for fourth-placed France.
In a bid to tackle the issue, Prime Minister David Cameron's government is sending up to 100 extra guards to Calais on the French side and is helping to upgrade fences to try and keep migrants from gaining access to trains which carry trucks across the Channel.