1st anniversary of Rana Plaza tragedy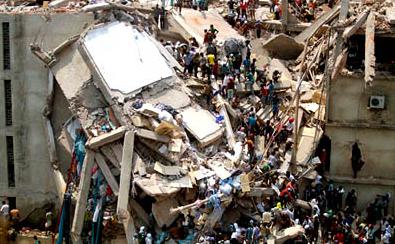 Today is the first anniversary of the catastrophic Rana Plaza building collapse, the worst ever tragedy in the 34- year history of the country's multi-billion dollar Readymade Garment industry.
On that day in 2013, Rana Plaza, an eight-storey commercial building with several garment factories in it, collapsed, killing 1,135 people and maiming numerous others, mostly garment workers.
After the incident, stakeholders, the government, buyers and other stakeholders came forward with necessary all out supports in aid of the victims of the Rana Plaza collapse.
Garment makers were in intense pressure from the European and American buyers while the US suspended the Generalized System of Preferences (GSP) trade benefits for Bangladesh citing violation of workers rights.
A number of trade union organizations including Industrial Bangladesh Council (IBC) and Sammilito Garment Sramik Federation played active role in realizing compensation from the responsible garment makers for the family members of the victims of the Rana Plaza collapse.
Likewise, global trade union bodies such as IndustriALL, a global union federation, UNI, a global trade union and Clean Clothes Campaign, a leading rights network for the garment sector, gave ultimatum to 29 brands which sourced from factories housed at Rana Plaza, asking to pay for the trust fund before April 24, 2014.
As part of the multifarious initiatives, the ILO decided to mobilize 40 million US dollars for the Workers' Welfare Fund. Of the $40m, $16m has so far come from international brands and each victim started getting Taka 50,000.
Apart from the stakeholders, similar initiatives have also been taken under ACCORD signed by European Buyers and Safety ALLIANCE by North American Buyers. The pressure from buyers' side and suspension of the tariff treatment prompted Bangladesh to concentrate on compliance issues for the survival of the garment industry, which is responsible for four out of every five export dollars.
Bangladesh has recently prepared an online accessible database of garment workers and appointed a number of inspectors to inspect risky factories in the city.