1st phase Ijtema ends seeking divine blessings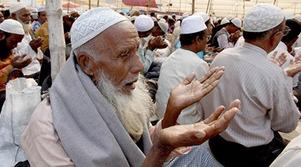 The three-day first phase of Biswa Ijtema came to an end on Sunday with the Akheri Munajat on the bank of the Turag River at Tongi.
Hafez Mohammad Zubayer, the Imam of Kakrail Mosque in Dhaka, conducted the 35-minute Akheri Munajat which began around 10:40 am.
The gathering of devotees, both from home and abroad, spilled over into the roads and areas around the Ijtema venue as the Akheri Munajat started.
Prime Minister Sheikh Hasina took part in the Akheri Munajat from the Gano Bhaban.
Alongside the Ijtema venue, thousands of the devotees joined the munajat from the rooftops and terraces of nearby houses, roads and open fields.
Islamic scholars from different countries delivered sermons on various aspects of Islam at the Ijtema.
Several lakh Muslim devotees, both from home and abroad, converged on the congregation venue and attended the prayers with reciting the name of Allah and hearing the sermons.
The three-day Ijtema, the second largest congregation of Muslims after the hajj, began on Friday.
Some 4,473 foreign devotees from 88 countries joined the first phase of the Ijtema.
The second phase of Ijtema will be held on January 19-21.
Tabligh Jamaat has been organising the Ijtema at the venue since 1967. But, the Ijtema is being held in two phases from 2011 to ease the accommodation.
Police took a five-tier security measure for the Biswa Ijtema to ensure overall security.
Besides, special measures were taken to ease the traffic system. Around 50 CCTVs were installed there to monitor the Ijtema ground and the adjoining areas.
Meanwhile, Bangladesh Railway (BR) made arrangements to operate special trains on different routes of the country to facilitate the movement of Muslim devotees of the Biswa Ijtema.