2 million flour packs to meet Ramadan needs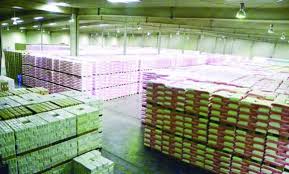 The Grain Silos and Flour Mills Organization (GSFMO) has accumulated a stock of two million flour packs of various types and sizes, along with wheat derivatives to cope with the demand this Ramadan, said Abdul Rahman Bin Saleh Al-Rwaita, GSFMO manager.
He said that there is an ongoing coordination with all commercial centers in the Kingdom to supply them with flour, so as to be available to the consumer.
As for the bakeries and factories sector, Al-Rwaita said: "The GSFMO is working to meet all the needs of this sector through the distribution of adequate rations of flour bags, while keeping a strategic stock in warehouses to face any emergency needs during Ramadan."
The official said that the annual consumption of flour in the Kingdom has reached 2.5 million tons, and the available strategic stock in Jeddah and Al-Jomom is about 600,000 packs, which is enough to cover the actual and forced needs of the market. "Makkah is the biggest consumer of flour in the Kingdom due to the large number of pilgrims and visitors throughout the year. Hence, its share will be increased by 10 percent during Ramadan and Haj." He said.
Al-Rwaita said that the organization's Al-Jomom branch was run in Makkah region recently to meet the growing needs of the region, as the storage capacity of wheat is estimated at 250,000 tons there. The production capacity of flour mills in this branch is 1,200 tons of wheat daily.
This branch is one of the most strategic GSFMO's outlets that will contribute to cover the needs of the citizens, residents and pilgrims throughout the year, he added.