2015 Man Booker long list announced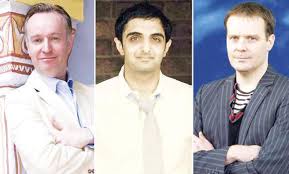 The long list of 13 titles for the 2015 Man Booker Prize for fiction written in English, published on Wednesday, features the first Jamaican author in contention for the 50,000-pound ($78,000) prize.
Marlon James is nominated for his third novel, "A Brief History of Seven Killings," the story of the attempted assassination of reggae singer Bob Marley and its aftermath in the Jamaica of the 1970s and early 80s.
Also in contention are 2007 winner Anne Enright and writers from Nigeria, India, New Zealand, Ireland, the US and Britain.
The list will be whittled down to six on Sept. 15 and the winner will be announced on Oct. 13 in London's Guildhall.
First awarded in 1969, the prize's list of previous winners features many of the literary giants of the last four decades, from Salman Rushdie and Hilary Mantel to Iris Murdoch and Ian McEwan.
The rules of the prize changed in 2013 to open it to writers beyond Britain and the Commonwealth. Last year's winning novel, "The Narrow Road to the Deep North" by Richard Flanagan, sold almost 800,000 copies worldwide.
After considering 156 books for this year's prize, the five judges chose the following 13 novels for the 2015 long list:
Author (nationality) Title (publisher) Bill Clegg (US) Did You Ever Have a Family (Jonathan Cape) Anne Enright (Ireland) The Green Road (Jonathan Cape) Marlon James (Jamaica) A Brief History of Seven Killings (Oneworld Publications) Laila Lalami (US).