3 Nobel laureates slam Suu Kyi over Rohingya 'genocide'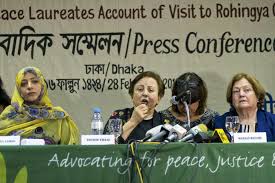 Three Nobel peace laureates have called on Myanmar's leader Aung San Suu Kyi, a fellow laureate, to put an end to the "genocide" against the Rohingya minority.
Mairead Maguire of Northern Ireland, Shirin Ebadi of Iran and Tawakkol Karman of Yemen on Wednesday ended a visit to Rohingya refugee camps in Cox's Bazar, Bangladesh.
They vowed to bring the perpetrators of crimes to justice via the International Criminal Court (ICC).
Suu Kyi "must stop turning a deaf ear to the persecution of the Rohingya or risk being complicit in the crimes," said Karman. "Wake up or face prosecution."
If Suu Kyi fails to stop the killings, "her choice is clear: Resign or be held accountable, along with the army commanders, for the crimes committed," added Karman.
Ebadi said Suu Kyi is "directly responsible." The three laureates said they had written to her repeatedly urging her to stop the atrocities against the Rohingya, but received no reply.
The three laureates shared with reporters the experiences of Rohingya women they spoke with at the camps.
"My 18-year-old daughter had her breasts cut off and she died," the laureates quoted a woman in Thyankhali camp as saying.
Maguire said: "The torture, rape and killing of any one member of our human family must be challenged, as in the case of the Rohingya genocide."
Ebadi asked: "Where are the Muslims?" She urged them to make a "united effort to stop this crime."
She added: "If today we turn a blind eye to these crimes, there will be many more like this in the future."
The three laureates on Wednesday met with Bangladeshi Prime Minister Sheikh Hasina, and thanked her for her generosity toward Rohingya refugees.