30 Palestinians injured in clashes in Ramallah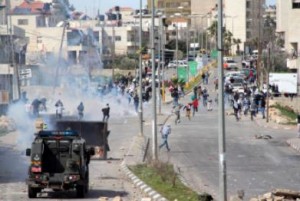 At least 30 Palestinians were injured by Israeli army fire on Friday in clashes near the entrance to the Jalazone refugee camp north of Ramallah in the West Bank.
Scores of young people staged a march at the camp's entrance to denounce Wednesday's killing of a young Palestinian man as he worked on a road-maintenance project in Ramallah.
One Palestinian youth, identified as 18-year-old Mohamed Hossam, was seriously injured after being shot in the neck. He was rushed to Ramallah Hospital for treatment.
Israeli forces fired shotguns loaded with birdshot at reporters covering the confrontations, leading to the injury of AA photographer Moaz Hamed in the foot.
Hamed was treated on the spot by first-aid crews.