3,489 illegal workers arrested in Riyadh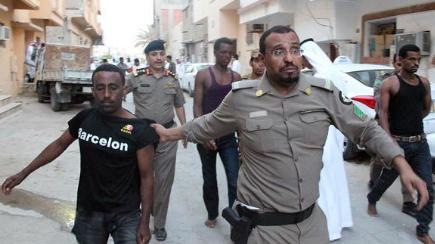 In a major crackdown, police arrested 3,489 illegal workers in Qassim, Asir and Riyadh over the weekend.
According to the general directorate of police, law enforcement authorities in Asir nabbed 1,867 people, while Qassim and Riyadh authorities arrested 1,178 and 444 illegal workers respectively.
The raids were carried out in Riyadh in the districts of Manfouha, Kubera, Shumaisi and Batha, where the security authorities arrested mainly Ethiopians and Yemenis.
The operations were carried out on special instructions from Riyadh Gov. Prince Faisal bin Bandar, with police and labor department officials teaming up to carry out the orders.
The operations in the capital were conducted over more than seven hours in various parts of the city.
Asir police spokesman Col. Abdullah bin Said bin Zafran explained that the irregularities included expatriates who did not have resident permits and others who were in the Kingdom against labor regulations.
Qassim police spokesman Badr Al-Suhaibani said those arrested were sent to prisons in the region for deportation after formal inquiries. He said authorities would continue such operations in the coming weeks to flush out illegal workers from the region.
Security authorities conduct regular inspections to apprehend illegal workers to curb crimes such as thefts, sorcery, employing illegal workers, brewing liquor and other illegal activities.
According to officials, most crimes in the Kingdom are committed by illegal residents who have overstayed their visas. As a result, the government has intensified its campaign against residents who have overstayed their visas.
During the amnesty period offered by the late King Abdullah, illegal residents were allowed to leave the Kingdom without any penalties during a grace period.
The Interior Ministry had earlier advised all illegal expatriates in the Kingdom to correct their work and residency status following the end of the amnesty period on Nov. 1, 2013, or leave the country.