4 airport workers sacked for mishandling luggage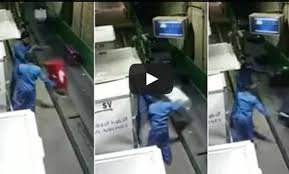 The General Authority of Civil Aviation (GACA) has fired four workers for mishandling baggage at King Khaled International Airport in Riyadh.
In a recent statement, GACA said an investigation had shown the men were guilty, and being lax in other duties. It did not disclose the nationalities of the men, but said two were supervisors.
There was widespread outrage on social media earlier this week when a video clip emerged showing the workers throwing around the baggage of passengers.
This reporter also had a bad experience last year when he arrived at his destination and found his bag without a wheel.
In its statement to Arab News, the head of GACA stated the decision was taken to "terminate the services of four staff at Saudi Ground Services following the incident in which the passengers' bags were handled in an inappropriate manner."
GACA said it would not tolerate such irresponsible behavior. It has vowed to crack down on Saudis and expatriates involved in such abuses, to ensure quality services for passengers.
It said a new baggage-handling system would soon be introduced at the airports in Riyadh and Madinah. A top Swiss company is expected to take over operations at the end of the year, it said.