43 countries visitors get, Bangladesh not placed in list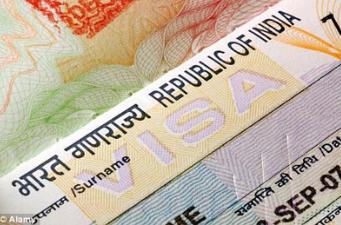 India will allow visa on arrival for tourists of 43 countries. An announcement said applications could be made online. They would be allowed to enter India within 30 days of approval.
However, Bangladesh is not among these countries.
According to several Indian newspapers, the electronic travel authorisation, in the form of an email, will entitle tourists to a 30 day stay.
The facility will be available at nine international airports-Delhi, Mumbai, Chennai, Kolkata, Hyderabad, Bengaluru, Thiruvananthapuram, Kochi and Goa.
But the facility will be available to individuals twice every year.
The new facility with online application was launched on Thursday by Indian home minister Rajnath Singh and state minister for tourism and culture Mahesh Sharma.
The online feature will allow prospective tourists to apply for Indian visa from the comforts of their homes without visiting an Indian mission or paying visa fees.
The applicant will receive an email authorising travel and a print-out of the authorisation will be sufficient for entry to India.
Rajnath Singh, while launching the scheme, said India has been the centre of attraction for people around the world since ancient times due to its philosophy and spiritualism.
He used the occasion to assure the tourism industry of a safe and secure environment for visiting foreigners.
The new facility will be available for tourism, short medical treatment, casual business visit, casual visit to meet friends or relatives etc.
The countries are Australia, Brazil, Cambodia, Cook Islands, Djibouti, Federated States of Micronesia, Fiji, Finland, Germany, Indonesia, Israel, Japan, Jordan, Kenya, Kingdom of Tongo, Laos, Luxembourg, Mauritius, Mexico, Myanmar, New Zealand, Niue, Norway, Oman, Palestine, Papua & New Guinea, Philippines, Republic of Kiribati, Republic of Korea (i.e. South Korea), Republic of Marshall Islands, Republic of Nauru, Republic of Palau, Russia, Samoa, Singapore, Solomon Islands, Thailand, Tuvalu, UAE, Ukraine, USA, Vietnam and Vanuatu.