4,500 Ramadan baskets distributed among Syrian refugees in Jordan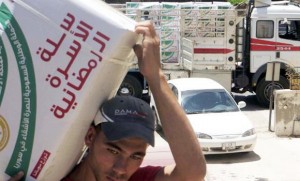 The Saudi national campaign to help Syrian refugees in Jordan distributed Ramadan baskets for 4,500 Syrian families in Ramtha and Madaba Governorates in the the second phase of its Ramadan relief activities.
The distribution of relief materials is undertaken in line with the directives of Custodian of the Two Holy Mosques King Abdullah and under the direct supervision of Interior Minister Prince Muhammad bin Naif, general supervisor of Saudi Relief Campaigns.
Director of the campaign office in Jordan Saad Al-Sowaid said Friday the third phase of the Ramadan basket distribution will begin by the end of next week covering 150,000 families outside the Zaatari camp.