Tigers off to flying start beating Sri Lanka by 137 runs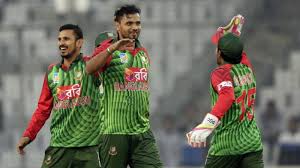 A heroic ton by Mushfiqur, courageous batting from Tamim followed by brilliant bowling from the bowlers have set a 137-run victory for Bangladesh against Sri Lanka in the opening match of Asia Cup.
Chasing a target of 262 run, Sri Lanka were never in the game as they lose top order within 32 runs.
Bangladesh bowlers never gave the chance to SL batsmen to settle down by picking up wickets in regular interval.
Mashrafe, Mustafizur, Miraz picked up two wickets each while Shakib, Mosaddek and Rubel shared one wicket each.
Late order batsman Perera's 29 and Lakmal's 20 could only lower the margin of the defeat.
Earlier, Bangladesh skipper Mashrafe has elected to bat first after winning the toss in the first match of Asia Cup in Dubai.
Despite losing two wickets in the first over, Tigers gather 261 run in the scoreboard courtesy to a magnificent 144 run by Mushfiqur Rahim.
But it was Tamim Iqbal who stole the show as he batted with one hand when Mustafizur, the last batsman of Bangladesh was dismissed. Had it not been his courage, Tigers would be dismissed for 229. Tamim, who fractured his hand was earlier ruled out for almost six seeks. He faced only one ball after coming down as last batsman. Mushfiqur showed his masterclass having only option of hitting boundaries.
After losing Liton and Shakib in the first over, Mithun and Mushfiqur made 131-run partnership in the middle. However, a second spell from Malinga rattle the Bangladesh line up as the red and greens went down from 134/2 to 142/5.
Little contributions from lower order batsmen and Mushfiqur's personal best took it to 229/9 before Tamim coming down in the pitch. Mushfiqur showed his best at that time hitting boundaries all around the fields.
Lasith Malinga could not have been asked for a better comeback in ODI as he claimed 4 wickets for only 23 runs.