5 Year old Boy Memorizes Quran From Radio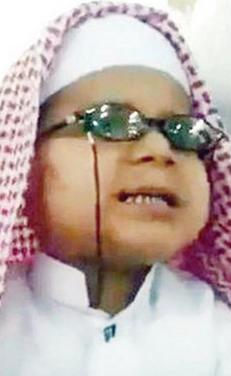 Five-year-old Saudi boy Hussein Mohammad Tahir, visually impaired since birth, managed a feat few able-bodied people can: He memorized the Holy Qur'an just by listening to the radio.
The story of the Burmese child began in Jeddah, where his father, knowing that he would not be able to watch TV, bought him a radio.
The father, Mohammad Tahir, said he fixed the frequency on a station, which broadcasts the Qur'an 24/7 so that his son can develop the habit of listening to Qur'an's teachings.
"I didn't even imagine that this child would benefit from the radio by memorizing the Qur'an," he said.
For three years, Tahir did not realize Hussein was memorizing the holy book through the radio.
After they moved from Jeddah to Madinah, the child asked his father to take him to the Prophet's Mosque.
The condition for taking him there, said the father, was to recite a few verses from Surah Al-Baqarah.
The child recited the entire surah, which surprised the father to no end.
Mohammad Tahir said he took the child to several teachers and people who had memorized the Qur'an to confirm that the child had completely memorized the holy Qur'an. They confirmed Hussein's achievement, and said he only needs some lessons in recitation.
Hussein was admitted to a Qur'an memorization circle of visually impaired children in the Prophet's Mosque.
"This makes me forget all the hardships he endured over the years, having been born blind and with some disability in a hand," said a thankful Tahir.