50,000 rally in support of Gaza in London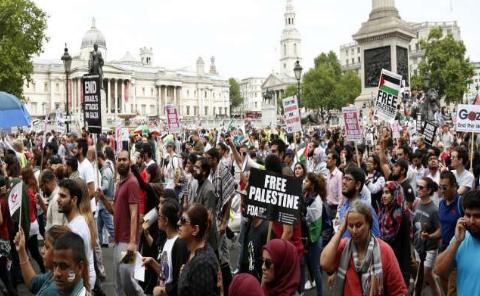 At least 50,000 people are attending a pro-Palestinian demonstration in London outside the Israeli embassy in protest against the onslaught in Gaza.
The rally on Saturday, organized by an umbrella group of organizations including Stop the War Coalition and the Palestine Solidarity Campaign, assembled at the Israeli embassy for a march to the UK parliament where they said they planned to call for Israel's attack and killings to stop and for British Prime Minister David Cameron to "stop supporting Israeli war crimes".
Protesters carried banners and placards declaring "Freedom for Palestine" and "Stop Israeli state terror" as they marched along streets lined with police officers.
One demonstrator who gave her name as Shazia told Anadolu Agency she wanted the protest to force Cameron to "listen to his electorate" and "stop allying with terrorists like Israel".
Becky Johnson, 31, said: "I've spent a bit of time in the Palestinian territories. I've got a good idea of the difference in lifestyle. The Israeli government should be accountable for their actions.
"People need to remember it's a human conflict. Humans are dying. We are all humans and we should be acting together to stop any suffering throughout the world."
'Wake up' call
Police officials estimated about 50,000 people attended the launch of the rally, while organizers said the protest appeared to be becoming as large as one staged last Saturday in London, in which 100,000 people took part.
The demonstration in London was made up of a diverse group of people, including Muslims, Jews, atheists, and many left-wing groups and was also co-organized by the Campaign for Nuclear Disarmament, Friends of Al Aqsa, British Muslim Initiative, Muslim Association of Britain and the Palestinian Forum in Britain.
Similar but smaller demonstrations were held across the UK including the cities of Birmingham and Newcastle.
Graphic Designer Mark Tophan told AA: "I am hoping today's protest will have an effect.
"I think it's unbelievable that something like this is going on, the international community has to wake up!"
Arms embargo campaign
The rally came after a week in which Members of Parliament Diane Abbot, Jeremy Corbyn and Jim Fitzpatrick handed-in an open letter to David Cameron demanding an immediate arms embargo on Israel.
Among the 21,000 people who signed the letter was human rights commentator and film director Ken Loach who said it was "disgraceful" that the UK was arming the state of Israel.
Earlier in the week, the UK government reiterated its stance that it supported the right of Israel to "defend itself", while condemning Hamas rocket attacks.
In a joint statement, the Foreign secretary Philip Hammond and International Secretary Justine Greening expressed their shock at the bombing of a UNWRA school in Gaza.
The Palestinian death toll from Israel's devastating military action in the Gaza Strip had risen to 985, the Gaza Health Ministry said on Saturday.
According to official Israeli figures, 40 Israelis – 37 soldiers and three civilians – have been killed since hostilities began.
Israel's operation "Protective Edge" is the self-proclaimed Jewish state's third major offensive against the densely populated Gaza Strip – home to 1.8 million Palestinians – within the last six years.