57 Die After Bus Crashes Into Oil Tanker in Pakistan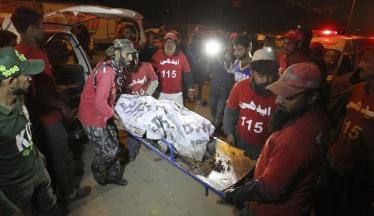 A passenger bus crashed into an oil tanker in southern Pakistan early Sunday, killing 57 people with remains charred beyond recognition, officials said.
Dr. Seemi Jamali, who heads the emergency section at Jinnah Post Graduate Medical Center in Karachi where the remains were brought, said they had received 57 bodies. Four people were also injured, she said.
She said the hospital would have to do DNA tests to identify the victims.
The Minister of Transportation for Sindh Province, Mir Mumtaz Hussain Jakhrani, said the crash happened when the passenger bus hit an oil tanker early Sunday about 50 kilometers outside of Karachi.
A relative of one of the victims told The Associated Press that his sister and two uncles and all their families were on board the bus.
"A total nine members of my family were on board and nobody survived," said Abdul Hafeez.
The bus was completely burned on the inside from the fire.
Such horrific traffic accidents are not uncommon in Pakistan due to reckless, untrained drivers and poor roads.