6 million people leave Dhaka to celebrate Eid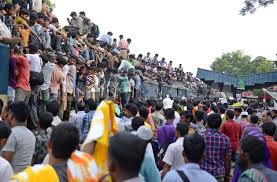 Law-enforcing agencies estimate around six million people have left Dhaka this year to share Eid joy with their loved ones, enduring gruelling journeys to their homes in towns and villages.
Though there were tailbacks, exhausting wait at stations and terminals, complaints of suffering were much less this time.
In the morning, amidst drizzle, gridlocks on Dhaka-Tangail Highway and Paturia ferry terminal prolonged the wait for returning home. But by afternoon, the situation eased.
The train schedules this year also did not cause much trouble to the home-bound passengers.
Due to sudden rush, many could not board launches on Thursday night, but on the eve of Eid they comfortably set off to their destinations from Sadarghat.