90,000 Palestinians mark Eid ul-Fitr at Al-Aqsa Mosque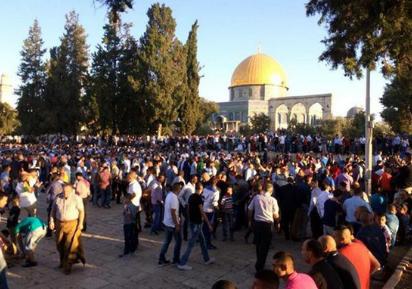 Thousands of Palestinian Muslims from East Jerusalem and the Israeli-occupied West Bank visited the Al-Aqsa Mosque on Friday to mark the Eid al-Fitr, the three-day festival that follows the fasting month of Ramadan.
Jihad Kioswani, a 40-year-old worshipper, told Anadolu Agency that he had set out from his home in the West Bank city of Al-Khalil (Hebron) at 5am to visit the iconic house of worship.
"I wanted to spend the first day of Eid in Jerusalem's Old City; this may be the last chance I have to visit Al-Aqsa until next Ramadan," he said.The Israeli authorities have stepped up security around the flashpoint mosque, deploying 2,000 troops in the area and setting up roadblocks at the Old City's entrances.
Sheikh Azzam al-Khatib, director-general of Muslim endowments and Al-Aqsa affairs, told Anadolu Agency that some 90,000 Palestinian worshipers had showed up at the mosque on Friday to perform Eid prayers.
For Muslims, East Jerusalem's Al-Aqsa Mosque represents the world's third holiest site. Jews, for their part, refer to the area as the "Temple Mount," claiming it was the site of two prominent Jewish temples in ancient times.
Israel occupied East Jerusalem and the West Bank during the 1967 Middle East War. It later annexed the holy city in 1980, claiming it as the unified capital of the self-proclaimed Jewish state in a move never recognized by the international community.