A Level results celebrated in Tower Hamlets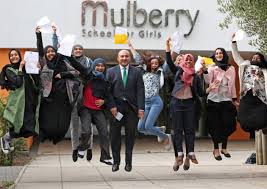 Following two years of hard work, students across Tower Hamlets today (August 13) celebrated as they opened their A Level results.
Results at Mulberry were extremely strong – with Head Teacher Vanessa Ogden indicating that 75 per cent of students achieved A* to C grades. 80 students from the school hold offers for Oxbridge or Russell Group universities.
Cllr Sirajul Islam, Deputy Mayor of Tower Hamlets, joined students at the school, and celebrated with them.
Speaking at the school, Cllr Islam said: "I want to extend a big well done to students who have achieved so much – and encourage them to say 'thank you' to their teachers. The achievements of students across the borough are testament to our teachers, as well as the support and dedication of parents. Teachers are so passionate and dedicated to inspiring young people to achieve their dreams."
Kawsara Chowdhury, 18, achieved an A* in Maths, an A* in Physics, and an A in Further Maths. She is going on to read Maths at Kings College. She said: "I feel really relieved – because I felt like my exams didn't go so well. But obviously my grades say otherwise! The school has been so, so supportive – especially my maths teachers. I'm going to really miss this place as I've been here for seven years."
Thasneem Zaman, 18, achieved one A* and two Bs. She is going on to study Geography at University College London. She said: "I'm so happy. I want to thank the school. All my teachers were so, so supportive. Teachers would respond almost 24/7 – in fact, one actually emailed me back when he was on holiday. I couldn't have achieved these grades without the support of the school."
Dr Vanessa Ogden, Head Teacher of Mulberry School for Girls, said: "We are delighted that our girls have done so well. Many of the girls who have excelled are students who entered Mulberry in Year 7 with achievement profiles that would be described as average. With outstanding teaching, excellent pastoral care in school and the creation of self-belief as well as an environment that promotes the success of women in particular, you can aim high and achieve those ambitions regardless of your starting point. Every girl who has done well has worked for her success and she thoroughly deserves her place at university."
Mulberry School for Girls was put on a national platform in June this year, when the First Lady, Michelle Obama visited. At the school, she launched the 'Let Girls Learn' initiative to improve opportunities for girls worldwide to complete their education.
Whilst at the school, Mrs. Obama said: "I am here because of you, girls like you who inspire me. I am so proud of your passion and diligence. You are great, working so hard to complete your education. In so many ways your story is also my story."
Mayor of Tower Hamlets, John Biggs, said: "I'm so impressed with our diligent pupils. Today is the start of the rest of their lives. Whether they go on to start working, carrying on their education at university, starting an apprenticeship, or whatever they go on to do, their A Level results will be a firm basis for a bright future.