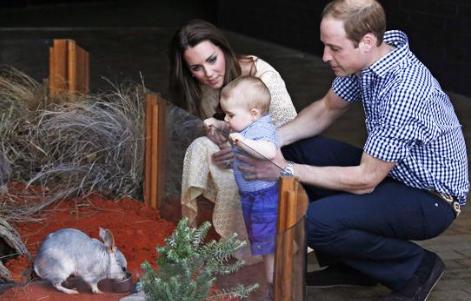 Britain's baby Prince George stepped out in public with his parents Sunday for the first time in Australia, for an encounter with wildlife at Sydney's Taronga Zoo.
George, eight-months-old and third in line to the throne after grandfather Princes Charles and father William, stole the show as his parents toured the harborfront zoo overlooking the Opera House and Sydney Harbor Bridge.
The royal family were at the zoo to visit an enclosure for bilbies and meet one of the rabbit-eared native marsupials who was named in George's honor.
Dressed in a blue striped shirt, blue shorts and black shoes, the infant prince wriggled excitedly out of Kate's arms as they neared the habitat to get a closer look.
He cooed as William fed his bilby namesake and stroked its head, craning over the top of the enclosure's glass wall.
Propped up by his mother, George bobbed jubilantly up and down and waved his arms as the inquisitive bilby, previously known as Boy, crouched up on its hind legs and peered over the edge at him.
He grinned and giggled for the cameras as William bounced him in his arms and kissed him on the head, beaming as he was presented with a stuffed toy bilby which he promptly tossed to the ground, setting off ripples of laughter in the capacity crowd.
George held fast to the ear of a silver bilby statuette as the Duke and Duchess of Cambridge unveiled a plaque in his honor. The enclosure was paid for by the Australian government as a gift on behalf of the nation to celebrate George's birth.
Senior zookeeper Paul Davies said the young prince was captivated by the animals and attempted to grab anything within reach.
"He was amazing, just amazing, he was so good, he loved all the animals," he said.
"They were like any family coming into the zoo for a family day out."
The zoo had to close its gates at 1.30 p.m. due to the huge crowds gathering to await the royals' arrival.
It was George's first public appearance in Australia, five days into the family's 10-day tour of the nation of which William's grandmother Queen Elizabeth II is head of state. George had just one formal engagement during their visit to New Zealand last week, at a play date with a group of local toddlers.
George left the zoo after his bilby encounter while his parents stayed on to feed a selection of animals including a tree kangaroo and giraffe and take in a sunset bird show in the outdoor amphitheater.
They petted a native quokka and koala and the duchess got a fright when an echidna she was stroking raised its spines.