Abdul Kalam laid to rest in India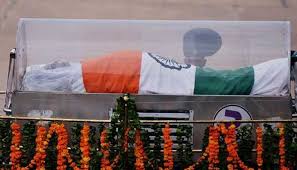 Former president A.P.J. Abdul Kalam was laid to rest on Thursday here with full military honours in the presence of Prime Minister Narendra Modi and several other leaders who paid tribute to the man who strengthened India's missile programme and played a key role in the country's 1998 nuclear test — making him a national hero.
The body of Kalam — warmly called the people's president — was draped in the Indian tricolour and brought to the burial site at Pei Karumbu here in a flower-bedecked gun carriage, escorted by columns of the three armed services.
People in large numbers lined up along the route to catch a last glimpse of Abdul Kalam, the rocket and missile scientist who was awarded the country's highest civilian honour — the Bharat Ratna — in 1997 and bid him a tearful final goodbye.
Many had climbed atop an under-construction building and other buildings to see their illustrious son-of-the-soil.
People cutting across political, religious and other lines came in large numbers to Abdul Kalam's native town to participate in his last journey.
Many could scarcely believe that he would no longer return to his hometown.
Kalam died on Monday in Shillong after suffering a massive heart attack during a lecture he was delivering to students of the Indian Institute of Management.