Afridi to stage T20 to support refugees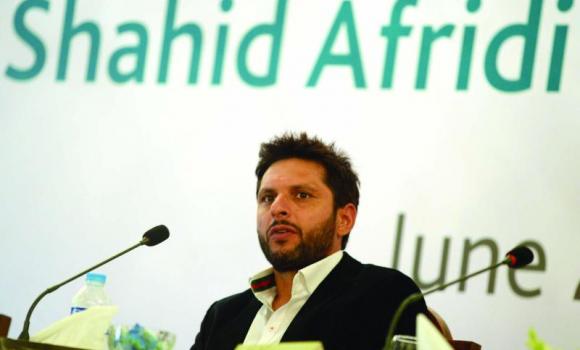 Pakistan cricket legend Shahid Afridi said he is planning a Twenty20 match to raise money for almost half-a-million people displaced by a military operation in the country's northwest.
More than 470,000 people have fled the offensive against strongholds of the Taleban and other militants in North Waziristan tribal area on the Afghan border.
Aid efforts have been stepped up to cope with the exodus and Afridi, who was born in Pakistan's tribal areas, said he wanted to help.
"I am in talks with the authorities and will soon announce a Twenty20 match in Lahore to raise funds," the big-hitting all-rounder told reporters.
"I wish Prime Minister Nawaz Sharif to captain one side and Imran Khan lead the other side because these two can attract more crowds and then we can raise a huge fund," Afridi later told AFP.
"I think if they come for the match it will become a big occasion and we can help our own people through the funds, so I would appeal both to come and join the cause," he said.
The 34-year-old was speaking at the launch of his charity foundation which will focus on mothers and internal refugees.
Afridi said the foundation had set up a 16-bed maternity hospital in remote Tangi Banda village in northwestern Khyber Pakhtunkhwa province.
"I want to return to my country what it has given me and with an aim to serve my people," he said.
The $160,000 hospital named after Afridi's father Fazlur Rehman was paid for by the star, who said he had been inspired by former captain Imran Khan.
"Imran set an example for all of us," said Afridi. Khan runs a charitable cancer hospital in Lahore.
Afridi said his foundation would also work on education and sports to turn youngsters away from the path of extremism.
"The youth in remote areas have no education and so whoever wants to change their mind for their own motives can use them for suicide bombings and other negative work," said Afridi.
"If we educate them then they can be more helpful for the country."
Afridi, who has played 378 one-day internationals and 74 Twenty20s for Pakistan, said he would spare more time for his foundation after the 2015 World Cup.
He retired from Tests in 2010 after playing 27 matches.