Alwaleed tops 2014 list of 100 powerful Arabs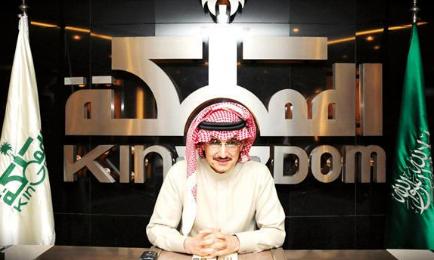 Prince Alwaleed bin Talal, chairman of Kingdom Holding Company (KHC), has been ranked number one in Gulf Business Magazine's 2014 "Top 100 Powerful Arabs list".
The prince has been featured in the magazine for three consecutive years.
Prince Alwaleed is known for his precision for exploring new and potential business opportunities and ventures in synchronization with the direction and fluctuations of the economic climate.
Moreover, the prince is active in social responsibility projects through significant local and international donations made by Alwaleed bin Talal Foundations span all the continents.
Founded in 1980, KHC is a publicly traded company which was listed on Tadawul (the Saudi Stock Exchange) in 2007.
KHC is one of the world's most successful and diversified business organizations, highly respected in the field of investments and recognized as an elite player in the Arabian Gulf region, and internationally.
The company is recognized as one of the largest foreign investors in the US.