Always ready to host ICC tournaments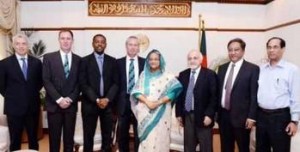 Prime Minister Sheikh Hasina said Bangladesh is always prepared to organise any ICC tournament. She made the comment on Sunday at a meeting with the President of International Cricket Council (ICC) Alan Isaac.
"My government encourages not only cricket but all types of sports," added the Premier.
A sports complex of international standards is being constructed in Savar for physically and mentally challenged athletes.
She also added that a cricket academy is being built in Cox's Bazar to provide world class training to cricketers.