Ameer Tableeghi Jamaat Haji Abdul Wahab passes away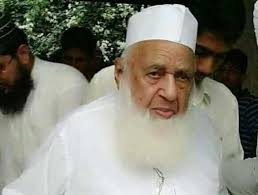 Ameer Tableeghi Jamaat Haji Abdul Wahab passed away at Raiwind, Lahore on Sunday after a protracted illness. He was 96. Haji Wahab was born in British India near Delhi in 1922. After graduation from Islamia College, Lahore he joined the civil service as a Tehsildar.
However, soon after meeting Maulvi Ilyas Kandelvi, the founder of Tableeghi Jamaat, he left his job. Upon joining the Tableeghi Jamaat at an early stage of his life, he decided to spend his remaining life in Tableegh (Dawah) and was with Maulvi Ilyas till his death.
Haji Wahab migrated to Pakistan after 1947, along with a few other colleagues and founded Madarssa Arabia in Raiwind junction Lahore. He went on to visit every province and village of Pakistan for Tableegh.
The main focus of his first visit was to teach people Kalma and Namaz (prayer) at an early stage along with getting education, respecting humanity and spending life in Tableegh.
He has organised Tableeghi Ijtima (religious congregation) all over Pakistan and founded the Tableeghi Markaz in all big cities of the country. At first the Jamaat comprised of a few Marakaz, but later it spread across the country.
This month two Ijtima held at Raiwind from November 2 to 13. About one million people participated in the gatherings, while thousands attended the it from across the globe.
The cleric's funeral prayer was offered at Raiwind Ijtema Haveli after Maghrib prayer after which he was laid to rest in a graveyard adjacent to the TJ centre in Raiwind.
Prime Minister Imran Khan expressed deep grief and sorrow over the sad demise of Haji Abdul Wahab, the Ameer of Tableeghi Jamaat, Radio Pakistan reported.
He said that" invaluable services rendered by Haji Abdul Wahab as a religious scholar will always be remembered."
The premier offered condolence to the bereaved family and prayed for the eternal peace of the departed soul.
Federal Minister for Information and Broadcasting Chaudhry Fawad Hussain has expressed deep grief and sorrow over the sad demise of Haji Abdul Wahab, the Ameer of Tableeghi Jamaat.
He said Haji Abdul Wahab rendered innumerable services for preaching and spreading the message of Islam.
The information minister said that Haji Wahab has a prominent place among the religious leaders who endowed every moment of their lives for the cause of Islam, and added that the Ameer Tableeghi Jamaat proved through his conduct that sentiments of peace and love can bring lasting changes in the mindset and character of a person.
He said the annual Tableeghi Ijtema at Raiwind is considered the largest gathering of Muslims after Hajj.
Federal Minister for religious Affairs and Interfaith Harmony Noor-ul-Haq Qadri also expressed grief over the death of Haji Abdul Wahab.
Chief Justice of Pakistan Mian Saqib Nisar has also expressed deep grief over the sad demise of Haji Abdul Wahab, Ameer Tabhleeghe Jamat.
Various PML-N leaders, including Nawaz Sharif, Shahbaz Sharif, Hamza Shahbaz, Amir Muqam and Marriyum Aurangzeb offered their condolences to the family of the deceased and acknowledged the amir's contributions to religious affairs.