'America first' does not mean America alone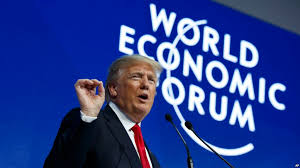 Donald Trump became the first US president in 18 years to address the World Economic Forum annual meeting in Davos with a speech that pledged to reform the international trade system, "de-nuke" the Korean peninsula and frustrate Iran's nuclear ambitions.
His address, delivered to a packed and expectant audience at the WEF on Friday, met with polite applause from a crowd that some had suggested could be hostile to the president's "America First" message.
But Trump defused potential hostility with a low-key, diplomatic speech that focused on his economic achievements and the attraction of the US for investors. On foreign and trade matters, he said: "I will always put America first, but America first does not mean America alone."
He restated his strong stance on foreign and military affairs. Trump said he had invested money in the US military, and was asking America's friends to "meet their financial obligations" on defense.
With regard to the world's trouble spots, Trump pledged to "de-nuke" the Korean peninsula, and prevent Iran from developing nuclear weapons. "We continue to call on partners to confront Iran's support for terrorists and block Iran's path to a nuclear weapon," he said.
On international terrorism, he delivered a strong message that a US-led coalition would "deny terrorists control of their territory and populations, to cut off their funding and to discredit their wicked ideology."
He said he was pleased to report that the coalition to defeat Daesh "has retaken almost 100 percent of the territory once held by these killers in Iraq and Syria."
"There is still more fighting and work to be done and to consolidate our gains. We are committed to ensuring that Afghanistan never again becomes a safe haven for terrorists who want to commit mass murder of our civilian populations," he said.
"We are also securing our immigration system as a matter of both national and economic security. America is a cutting-edge economy. But our immigration system is stuck in the past. We must replace our current system of extended family chain migration with a merit-based system of admissions."
Trump said US prosperity created jobs and economic growth around the world, but he warned that he would take a tough line on trade when he believed other countries were not playing fair. In a veiled reference to China, he said: "You cannot have free and open trade if some countries are not fair and reciprocal." The US would not tolerate threats to intellectual property, subsidies, or "state-led economic planning."
He said the US would enter mutually beneficial trade treaties, and would consider bilateral treaties with members of the Trans-Pacific Partnership, the global trade group from which he withdrew in one of his first acts as president.