Android Pay is now officially available in the UK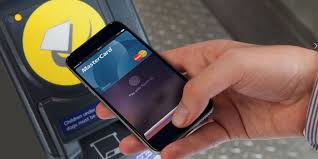 Android Pay — Android's mobile payments platform — is now officially available in the UK, one of the most advanced contactless nations in the world. Android Pay helps people pay for things simply and securely with their Android smartphones. Mastercard and Visa are both supported, with the Bank of Scotland, First Direct, Halifax, HSBC, Lloyds Bank, M&S Bank, MBNA, and Nationwide Building Society all available at launch. Santander and Barclays are both missing from the launch, with the latter attempting to offer its own app as an Android Pay alternative. This is after officially launching in the US more than 8 months ago, but better late than never.
Keep in mind that Android Pay also doesn't work on rooted devices, so if you're planning on using it to make purchases, you'll want to revert back to stock. Using NFC technology built into most Android devices these days (but not all), Android Pay not only works at terminals where you see the little Android logo, but also any/all that also support Apple Pay or have the universal "Tap & Pay" logo on it.
What is Android Pay?
Android Pay is a mobile wallet that can store your credit cards, debit cards, loyalty cards, etc. If that sounds a lot like Google Wallet, it's because Android Pay is the new Google Wallet (only it's supposed to be better, more convenient, and secure).
How does Android Pay work?
Using sensor technology built into most Android smartphones called near-field communication (NFC), a phone can be tapped against any contactless payment point – whether it be a card reader in shops such as Boots and Marks & Spencer or a tap-in point on the London transport network – to complete a transaction linked to your bank account.
Download the new, free Android Pay app to set up the system, which can be linked to any account using Visa or MasterCard. The system also works within apps as an alternative, quicker form of payment as well as in stores.
Which smartphones are compatible?
Any Android smartphone running at least version 4.4 of the mobile operating system and with NFC compatibility can use Android Pay. This means almost every Android device from the likes of Samsung, HTC, Sony, LG, Huawei and others from the past two years should be compatible with the payment system.
Have all the banks signed up?
The majority of UK banks are signed up to Android Pay at launch. Bank of Scotland, First Direct, Halifax, HSBC, Lloyds Bank, M&S Bank, MBNA and Nationwide Building Society have been confirmed as partners by Google, with more banks due to be added according to the technology giant.
Is it secure?
Transactions within Android Pay are protected by a process known as 'tokenisation'. This means that rather than sharing account details with a vendor each time a transaction is made, special digital tokens are generated and used. Instead, payment and account details are kept secure and encrypted within the device.
Does the app need to be open each time?
No. You can just tap your device against a payment point when it is on in order to make a payment. This works for transactions under £30, for those over £30 you will need to confirm the payment using a security method like that used to unlock your phone – either a pin, fingerprint or drawn pattern.
Where can you use Android Pay?
Anywhere that accepts contactless payment will be compatible with Android Pay, including the likes of Boots, Costa Coffee and Waitrose, as well as across the London transport network thanks to a link with Transport for London (TfL).
It can also be used within apps on an Android smartphone as an alternative payment method.