Ankara car bomb kills at least 28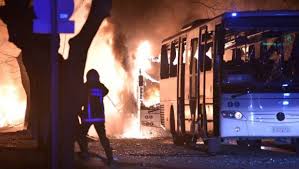 A car bomb went off in the Turkish capital Wednesday near vehicles carrying military personnel, killing at least 28 people and wounding 61 others, officials said.
The explosion occurred during evening rush hour in the heart of Ankara, in an area close to parliament and armed forces headquarters and lodgings. Buses carrying military personnel were targeted while waiting at traffic lights at an intersection, the Turkish military said while condemning the "contemptible and dastardly" attack.
"We believe that those who lost their lives included our military brothers as well as civilians," Deputy Prime Minister Numan Kurtulmus said.
At least two military vehicles caught fire and dozens of ambulances were sent to the scene. Dark smoke could be seen billowing from a distance.
There was no immediate claim of responsibility, but Kurtulmus pledged that authorities would find those behind the bombing. He said the government had appointed seven prosecutors to investigate the attack, which he described as being "well-planned."
Turkish President Recep Tayyip Erdogan condemned the bombing saying it exceeds all "moral and humane boundaries."
Turkey is determined to fight those who carried out the attack as well as the "forces" behind the assailants, he said.
"Our determination to retaliate to attacks that aim against our unity and future grows stronger with every action," Erdogan said. "It must be known that Turkey will not refrain from using its right to self-defense at all times."
After the attack, Turkish Prime Minister Ahmet Davutoglu canceled a visit to Brussels Wednesday evening and attended a security meeting with Erdogan and other officials. Erdogan postponed a trip to Azerbaijan planned for Thursday.