Another UK minister quits over Brexit deal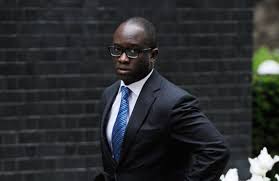 British government minister Sam Gyimah quit late Friday over Prime Minister Theresa May's "naive" Brexit plan, dealing her another blow in her fight to pass it through parliament.
The universities and science minister is the seventh member of May's government to quit since she brought back the draft Withdrawal Agreement from Brussels.
Gyimah, who voted to remain in the EU, said the deal was "not in the British national interest" and that voting for it would set Britain "up for failure".
"Britain will end up worse off, transformed from rule makers into rule takers," he wrote on Facebook.
"It is a democratic deficit and a loss of sovereignty the public will rightly never accept," he added.
He did not rule out the possibility of supporting a second referendum, saying "we shouldn't dismiss out of hand the idea of asking the people again what future they want".
Gyimah said Britain's exclusion from the EU's Galileo programme because of Brexit was a "clarion call", saying it was "only a foretaste of what's to come" in negotiating a future relationship with the bloc.
"I have seen first-hand the EU stack the deck against us time and time again," he said.
Britain in June revealed that it had been formally excluded from future contracts for the programme that is intended for commercial uses such as logistics as well as for armed forces and emergency services.
Brussels has said it will deny London access to Galileo's encrypted signals after Britain's EU departure next year, despite its estimated £1.2 billion (Dh5.6 billion or $1.5 billion) investment.
May has said Britain would look to build its own system.
Gyimah, a former aide to prime minister David Cameron praised May's "grit and determination", but his resignation highlights the daunting task of getting the deal through parliament, with both Remainers and Brexiteers in her own party vowing to vote it down on December 11.
May commands a wafer-thin majority in parliament, and around 100 of her own MPs have already promised to rebel.
She did, however, receive backing from senior minister and prominent Brexit supporter Michael Gove, who warned that voting against the deal could scupper the whole process.
"It's time for all of us to put our personal perfect plan to one side, recognise the reality of the choice we face, and start to bring the country back together again," he wrote in the Daily Mail.
"Get this wrong and we may put in peril the Brexit the British people voted for and want us to deliver."