Apple releases first Arabic version of Siri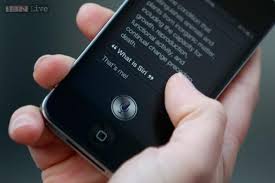 Apple Inc on Tuesday released a version of its virtual personal assistant Siri for Arabic speakers in the United Arab Emirates and Saudi Arabia, potentially making its iPhones more attractive in a largely affluent market of more than 30 million people.
The move, part of Apple's latest software updates, means people in those countries will be able to use Siri in their native tongue on iPhones, iPads and the Apple Watch. It follows Google, whose Android phones' voice search function already offer some support in Arabic.
"This is part of the consumerization and personalization of IT-based services that we're seeing at all levels of the industry," said Paul Black, director of telecoms and media at IDC Middle East, Turkey and Africa.
Apple and its primary smartphone competitor, Google, have saturated the United States and Western Europe with their devices, leaving markets such as the Middle East, China and India as some of the prime places to grow.
Apple already boasts strong brand awareness in the Middle East, particularly among high-end consumers, analysts said. The opening of two retail stores in the UAE in October whipped fans into a frenzy, local media reported.
The availability of Siri in Arabic may make some consumers more receptive to Apple software, said Ken Singer, managing director of the Center for Entrepreneurship and Technology at UC Berkeley.
"These devices are incredibly personal," said Singer, who has counseled entrepreneurs in the Middle East. "(Consumers) are going to want to feel like the device is designed for them."
Arabic speakers outside Saudi Arabia and the UAE will be able to use Siri, though it will not be tailored to their dialect.
Arabic has been a challenging language for tech companies, with strong regional variations. "Siri has her work cut out for her," said Singer.