Apple unveils 3 new iPhones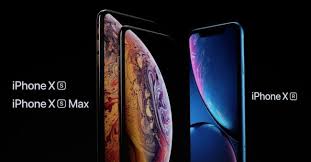 Apple unveiled three new iPhone models and a new smartwatch model Wednesday, but discontinued iPhone X that was released a year ago.
Released on the 10th anniversary of its first iPhone model, iPhone X appeared discontinued as the company did not provide a new price for the smartphone at its annual event in Cupertino, California.
The iPhone SE and iPhone 6s also appeared discontinued.
The iPhone X was the firm's first smartphone with an edge-to-edge display, was also removed from the company's website.
CEO Tim Cook dubbed iPhone X as "the number one smartphone in the world" at the beginning of the event, and said the device has 98 percent customer satisfaction.
The new models, iPhone XS and iPhone XS Max, both have edge-to-edge display like their predecessor with a super retina OLED display.
They carry Apple's new A12 Bionic chip, in addition to 12 megapixels of rear camera and 7 megapixels of front camera, and will support dual-SIM technology enabling users to carry two networks in a single device.
The new models will have 64 GB, 128 GB and 512 GB options with gold and space gray finish. They will be ready for pre-order on Friday and will ship Sept. 21.
The iPhone XS has a 5.8-inch display and starts from $999, the same price of iPhone X. It has a battery life of 30 minutes more than its predecessor, according to Apple Head of Marketing Phil Schiller
The iPhoneXS Max has a 6.5-inch display, the largest in Apple's history for a smartphone, and pricing begins at $1,099. It has a battery life 90 minutes longer than iPhone X.
As for the older models, the price of the iPhone 7 was lowered to $449 and iPhone 8 to $599.
– New cheaper model
Apple said its third new smartphone, iPhone XR, will start at $749. It will be ready for pre-order on Oct. 19 and will begin shipping a week later.
Cook said Apple wants to reach to more users for the iPhone, which explains the relatively lower price of iPhone XR and a different screen technology.
Instead of a super retina OLED display, the device has a 6.1-inch liquid retina LCD screen, but still has an edge-to-edge display.
As with the other two new models, it is equipped with A12 Bionic chip, in addition to 12 megapixels of rear camera and 7 megapixels of front camera.
While its battery is 90 minutes longer than the iPhone 8 Plus, the device will be available in six color options — white, black, blue, coral, yellow and red.
– Apple Watch 4
Apple also changed the screen design of its new smartwatch, Series 4, which now has an edge-to-edge curved screen that is 32-35 percent larger than the Apple Watch Series 3.
The speaker is also 50 percent louder and the microphone is moved away from the speaker to prevent echoes, Apple said.
Apple Watch Series 4 can detect low heart rate, scan heart rhythm, but more importantly can take an electrocardiogram (ECG) in 30 seconds with a single push of a button, the company said.
Users can store ECG results in iPhones or iPads, and send to doctors, according to the Apple.
The new smartwatch can also detect falls, delivers an alert and call emergency services, Chief Operating Officer Jeff Williams said.
The watch will start from $399 for GPS model, and from $499 for cellular model. Like the new iPhone models, it will be ready for pre-orders Friday, and shipped Sept. 21.
The price of the Apple Watch 3 has been lowered to $279.