Apple unveils large screen iPhones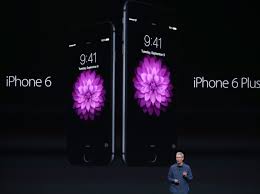 Apple moved to recapture its role as the leading tech trend-setter on Tuesday when the California giant unveiled its first smartwatch and two large-screen versions of the iPhone.
In a major product event, Apple also said it was introducing a new mobile wallet that will allow consumers to simply tap their phones to pay retailers, aiming to popularize the idea of mobile payments.
The Apple Watch, a sleekly designed wrist device which links to the iPhone, "will redefine what people expect from this category," chief executive Tim Cook said in Apple's hometown Cupertino, California.
"It is the next chapter in Apple's story."
Also unveiled were the iPhone 6 and iPhone 6 Plus, in a large boost to the screen size of the popular handsets.
Apple's main rival Samsung has long had a range of larger handsets and has tried to market a smartwatch of its own.
The iPhone 6 will have a screen of 4.7 inches and the 6-Plus will be 5.5 inches, allowing Apple to adapt to consumers' apparent preference for bigger displays.
Cook said the new handsets represented "the biggest advancement in the history of iPhones."
Apple senior vice president Phil Schiller the new iPhones were "simply stunning" with polarized glass displays and bodies that are "thinner than ever before."
"These are the best phones ever made," Schiller said, as he described the new devices at a major set-piece event streamed live online.
The new iPhone 6 will start at the same price of existing iPhones at $199 for US customers while the iPhone 6 Plus will be at $299 with a two-year contract.
Schiller said the devices would be available in at least 115 countries by the end of the year.
With the new launch, Apple will cut the price of existing iPhone 5S and 5C with the launch.
Apple's move, expanding the latest iPhone with a four-inch screen, comes as consumers are switching to handsets with bigger displays to watch videos and browse the Internet.
Observers say the time is right for Apple to introduce a generation of iPhone 6 models with screen sizes stretched to tap into users' love for "phablets" that combine the features of smartphones and tablets.