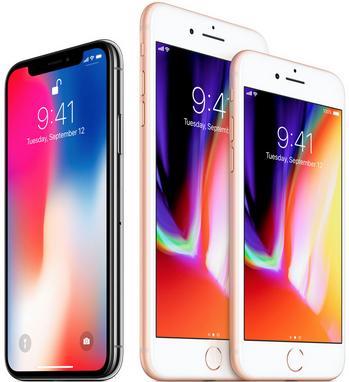 "One more thing." With that phrase, Apple paid homage to its late co-founder Steve Jobs for the 10-year anniversary of the iPhone on Tuesday when it unveiled its latest — and, at $999, its most expensive — new version of the device, the iPhone X.
CEO Tim Cook called it "the biggest leap forward" since the first iPhone. ("X" is pronounced like the number 10, not the letter X.) It loses the home button, which revolutionized smartphones when it launched; offers an edge-to-edge screen; and will use facial recognition to unlock the phone.
The phone has a 5.8-inch OLED screen, which fills the entire front of the device. Apple has removed the iconic home button to make way for the display, replacing it with facial recognition software called Face ID.
Face ID is used to unlock the phone, authenticate Apple Pay and cutomise the new animoji.
Apple also unveiled a iPhone 8 and a larger 8 Plus, two new phones that have 4.7-inch and 5.5-inch screens with upgrades to cameras, displays and speakers.
Those phones, Apple said, will shoot pictures with better colors and less distortion, particularly in low-light settings. The display will adapt to ambient lighting, similar to a feature in some iPad Pro models. Speakers will be louder and offer deeper bass.
Both iPhone 8 versions will allow wireless charging, a feature thought to be limited to the anniversary phone. Many Android phones, including Samsung's, already have this.