Arab leadership award goes to Prince Sultan bin Salman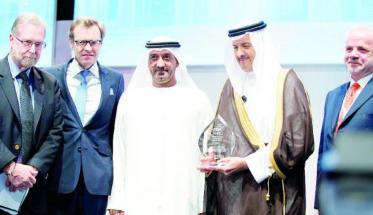 Prince Sultan bin Salman, president of the Saudi Commission for Tourism and Antiquities (SCTA), received the Leadership Award at a glittering Arabian Hotel Investment Conference at Madinat Jumeirah in Dubai on Sunday.
The award is for developing the hospitality sector in Saudi Arabia.
Prince Sultan received the award from Sheikh Ahmed bin Saeed Al-Maktoum, chairman and chief executive officer of Emirates Airline, on the first day of the conference. Over 550 delegates and hotel industry leaders witnessed the ceremony.
The organizers said that Prince Sultan has helped develop the hotel industry in Saudi Arabia with key initiatives that is a response to growing domestic demand. A strong corporate sector and the continued expansion of religious tourism have been fueling the growth in this sector in the Kingdom.
The government's efforts to drive tourism in Saudi Arabia have been demonstrated by recent SCTA measures. These include plans to expand five of its domestic airports to raise capacity, opening up the Kingdom's domestic aviation sector to more airlines, and the latest visa scheme, which allows pilgrims to tour the Kingdom with a month's extension on their Umrah visas. All these initiatives are shaping the growth of hotels across the Kingdom.
The country had 1,251 hotels and 2,582 furnished apartment buildings in 2013, with a number of international names entering the market.
According to the SCTA, the Saudi market currently has 300,000 hotel rooms and serviced apartments that can accommodate more than 45 million arrivals a year across all categories and sub-destinations.