Arab League to reject Israel as Jewish state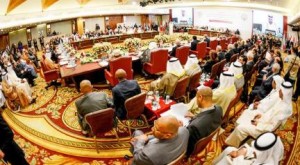 Thirteen heads of state have so far confirmed their attendance at the two-day Arab summit which commences on Tuesday, with Arab foreign ministers set to hold a preparatory meeting on Sunday to finalize the summit's agenda.
This is the first Arab summit to be hosted by Kuwait since it joined the Arab League on June 20, 1961, and comes at a critical time.
The summit's agenda is expected to include talks on the ongoing Syrian conflict, the Palestinian–Israeli peace process, and diplomatic tensions between Arab states.
Kuwaiti Minister for Cabinet Affairs Sheikh Mohammed Abdullah Al-Mubarak Al-Sabah told Asharq Al-Awsat that the summit will seek to find solutions to a number of ongoing issues. "Wisdom always prevails among Arab leaders during difficult times … Kuwait always plays the role of calming (tensions) and supporting cooperation and joint (Arab) interests."
Top diplomats will be discussing draft resolutions on the Palestinian cause, the Arab-Israeli conflict and activating the Arab peace initiative, since US Secretary of State John Kerry said the Israelis and Palestinians could not reach an agreement by next month.
"They will reject recognition of Israel as a Jewish state, which, if happens, would undermine the right of the Palestinian people to return to their lands and the compensation of Palestinian refugees," said KUNA in a statement.