Arab Parliament honorsa King Salman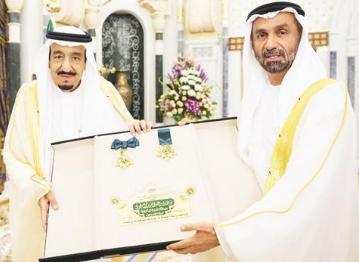 Custodian of the Two Holy Mosques King Salman received the First Class Merit Award from the Arab Parliament in Riyadh on Sunday.
He was awarded for his courage and service toward resolving regional Arab issues in general, and the Yemen problem in particular.
On behalf of the Arab Parliament, President Ahmad Al-Jarwan presented the award to the king at Yamamah Palace in the presence of a distinguished gathering.
On the Saudi side, the event was attended by Shoura Council Chairman Abdullah Al-Asheikh, Minister of State and Cabinet Member Musaed bin Mohammed Al-Aiban, Foreign Minister Adel Al-Jubeir and Culture and Information Minister Adel Al-Toraifi.
The members who accompanied the visiting delegation included Samia Hassan Seyed Ahmed, Noorudin Mohamed Sayd, Mohammed Sayd Al-Jabri, Abdulrahman Al-Labdah, Ahmed Al-Mashreki, Abdullah Al-Muneef, Salem Al-Kaabi and Noha Al-Faroori.
Acknowledging the award, King Salman said: "The Kingdom supports those who seek to unite the ranks of Muslims and Arabs. Arabism is from the Arabian Peninsula, and the Kingdom constitutes the largest area of the Arabian Peninsula. It is where the religion of Islam was born and also it was the land where the Holy Qur'an was revealed through the Holy Prophet Muhammed (peace be upon him) in Makkah and Madinah."
"This is a matter of pride for us, but also it is a great responsibility bestowed on the religion of Islam and our Arabism."
"It is an honor for the Arabs that the Holy Qur'an came down in the Arabic language to an Arab prophet. Here we must shoulder the responsibility, and our Muslim brothers all over the world should live as brothers to one another.
"Every person's religion is between him and God. The inter-religious and intercultural dialogue propagated by the late King Abdullah was followed intensely from the reign of King Abdul Aziz and by his sons to unite ranks among Arabs, Muslims and countries around the globe.
"Now the world has become a global village. I say quite frankly that the Kingdom is your country, the country of Arabs and Muslims.
"We feel its our responsibility to host the guests of Allah, who come as pilgrims to the holy cities and its our duty to maintain peace, security and stability in the Kingdom as well as in the region."
In response to the king's address, Al-Jarwan, commended King Salman for his bold steps to maintain peace, security and stability among Arab nations. He praised the dedicated efforts of the King for contributing toward humanitarian causes as well as helping Yemen to restore legitimate rule.
Shoura Council President Al-Asheikh described the award as symbol of appreciation of the Arab people to King Salman for his supreme services toward resolving Arab issues and helping Yemen find legitimate rule.