Arrested Egyptian girl gives birth while hundcuffed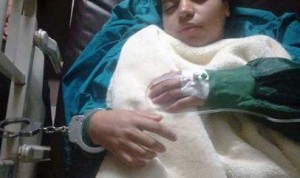 18-year-old Egyptian Dahab Hamdy was 8 months pregnant when she accidently got caught up in an anti-coup protest on her way to hospital for a check-up on January 14.
As Egyptian police cracked down on the protest, Hamdy and her friend were arrested for taking part in the protest even though they were clearly just passersby and taken to the Al-Amereya detention center. Since then, she has had her detention renewed 15 times.
When she went into labor, she was still in the detention. The authorities temporarily released her to go to hospital to give birth, but still handcuffed her to her hospital bed, and is now waiting to be taken back into detention.
According to the Middle-East Monitor, her husband appealed to a public prosecutor but is yet to get a response.