At least 17 killed in Bangladesh election violence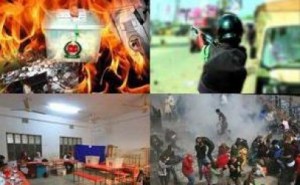 Police in Bangladesh fired at protesters and opposition activists torched more than 100 polling stations Sunday during a national election boycotted by the opposition and described as flawed by the international community. At least 17 people were killed in election-related violence.
Prime Minister Sheikh Hasina's refusal to heed opposition demands to step down and appoint a neutral caretaker to oversee the election led to the boycott, undermining the legitimacy of the vote. Opposition activists have staged attacks, strikes and transportation blockades in unrest that has left at least 286 people dead since last year.
"We never expected such an election," said Aminul Islam, a resident of the capital, Dhaka, who refused to vote. "For such a situation, both the government and opposition are responsible. They don't want to establish democracy."
Police opened fire to stop protesters from seizing a polling center in Bangladesh's northern Rangpur district, killing two people, authorities said. In a similar incident in neighboring Nilphamari district, police fired into about two dozen protesters, killing two people.
Local media reported that attackers torched at least 127 school buildings across Bangladesh in overnight attacks. The buildings were to be used as polling stations.
As of Sunday afternoon, voter turnout appeared to be low. The voting began at 8 a.m., but local television stations showed mostly empty polling stations.
"The boycott of the election by several parties may have contributed to the low turnout," Chief Election Commissioner Kazi Rakibuddin Ahmad told journalists at his Dhaka office.
The opposition boycott led to 153 of Parliament's 300 elected seats going uncontested.
The European Union, the United States and the British Commonwealth did not send observers for what they considered a flawed election. US State Department deputy spokeswoman Marie Harf said that Washington was disappointed that the major political parties had not reached a consensus on a way to hold free, fair and credible elections.
By midmorning Sunday, voting was suspended at least 149 polling centers because of attacks, the election commission said.