At least 1,726 Gazans killed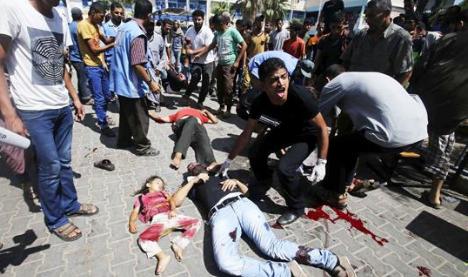 Israeli bombardment killed at least 30 people in Gaza on Sunday, including at least 10 in a UN-run school in the southern Gaza Strip that was hit by an air strike. About 30 others were wounded in the air strike.
The fighting on Sunday pushed the Gaza death toll given by Palestinian officials to 1,726, most of them civilians. Israel has confirmed that 64 soldiers have died in combat, while Palestinian rockets have also killed three civilians in Israel.
The Israeli military declined immediate comment on the attack, the second to hit a school in less than a week.
A missile launched by an aircraft struck the entrance to the school in the town of Rafah, the witnesses and medics said. Hundreds of Palestinians in the area, where the Israeli military has been battling militants, had been sheltering in the facility.
Last Wednesday, at least 15 Palestinians who sought refuge in a UN-run school in Jabalya refugee camp were killed during fighting, and the UN said it appeared that Israeli artillery had hit the building. The Israeli military said gunmen had fired mortar bombs from near the school and it shot back in response.
The renewed attacks followed Israeli Prime Minister Benjamin Netanyahu's announcement on Saturday to keep up pressure on Hamas even after the army completes its core mission of destroying a tunnel network that extends into Israel.