At least 42 dead in Pakistan road accident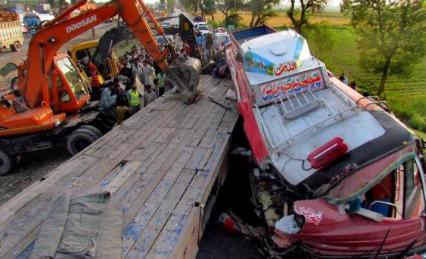 At least 42 people were killed and 17 wounded in southern Pakistan when a bus travelling to Karachi collided with a tractor-trailer, police said.
The dead included 14 children and 13 women, they said.
The accident happened in the town of Sukkur, 425 km north of Karachi in the southern province of Sindh.
Fida Hussain Shah, a senior Sukkur police officer who gave the casualty figure, said the bus driver was killed on the spot while the driver of the tractor-trailer was wounded.
Police said the cause of the accident was yet not clear. All the dead and injured were riding in the bus, apart from the tractor driver.
Sharjeel Kharal, another senior police official, confirmed the incident.
Most of the injured were in critical condition and many were transferred to hospital in Karachi after initial treatment in Sukkur.