Atal Bihari Vajpayee dies at 93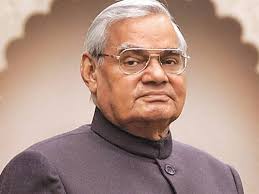 Former prime minister Atal Bihari Vajpayee, the first non-Congress leader to serve a full term in power, died on Thursday at the All India Institute of Medical Sciences (AIIMS) where he had been undergoing treatment for a kidney ailment since June.
"It is with profound grief that we inform about the sad demise of Former Prime Minister of India, Shri Atal Bihari Vajpayee at 05:05pm on 16.08.2018," AIIMS said in a statement on Thursday.
"Unfortunately, his condition deteriorated over the last 36 hours and he was put on life support systems. Despite the best of efforts, we have lost him today," the statement read.
Renowned for his powerful oratory and poetry, Vajpayee, 93, one of the founder members of the Bharatiya Janata Party (BJP), served as prime minister for 13 days in 1996, 13 months (1998-99) at the head of the National Democratic Alliance (NDA) government and then for a full five year term (1999-2004).
He had announced his retirement from electoral politics in 2005 and withdrew further from public life in 2009 after suffering a stroke that weakened his cognitive abilities. Subsequently, he developed dementia.
A diabetic and having only one functional kidney, he was admitted to the All India Institute of Medical Sciences (AIIMS) on June 11 with kidney tract infection, chest congestion, urinary tract infection and urine output on the lower side.
Born in Gwalior on December 25, 1924, Vajpayee joined the Rashtriya Swayamsevak Sangh in 1939, and in 1951, was seconded to its political wing, the Bharatiya Jana Sangh. He steadily rose in its hierarchy and became its national president in 1968.
Imprisoned along with other opposition leaders during the Emergency (1975-77), he merged the Jana Sangh into the newly-formed Janata Party to fashion a common front against the Congress in the 1977 elections. He subsequently served as Minister of External Affairs in the Morarji Desai government.
After the Janata Party's collapse, Vajpayee, along with long-time associate LK Advani and others, set up the BJP in 1980.
A parliamentarian for over four decades, he was conferred the Bharat Ratna in 2015.