August 21 grenade attack
Babar, 18 others get death; Tarique, 18 awarded life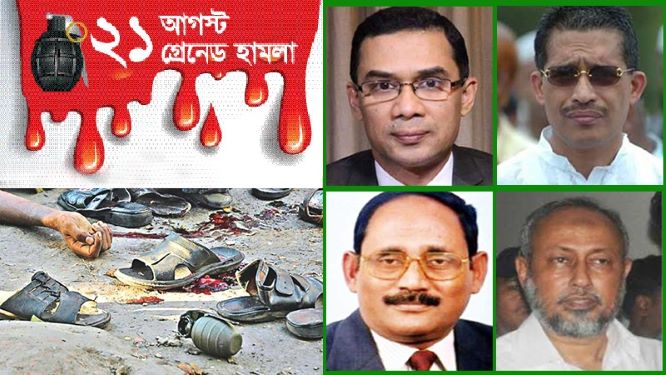 Former State Minister Lutfozzaman Babar, former Deputy Minister Abdus Salam Pintu and 17 others were sentenced to death while BNP leader Tarique Rahman and 19 others were awarded life term imprisonment for the grenade attack on Awami League rally on August 21, 2004. UNB reports.
Judge Shahed Nuruddin of the Speedy Trial Tribunal-1 at Old Dhaka's Nazimuddin Road pronounced the verdict around 12:13 pm.
Those were awarded death penalty include former State Minister for Home Lutfozzaman Babar and former Deputy Minister for Education Abdus Salam Pintu.
DEATH ROW CONVICTS
Lutfozzaman Babar, former state minister for home; Abdus Salam Pintu, former deputy minister for education; Brig Gen (retd) Rezzaqul Haider Chowdhury, former NSI chief; Brig Gen (retd) Abdur Rahim, former DGFI director; Mohammad Hanif, owner of Hanif Paribahan; Pakistan-based LeT leader Yusuf Butt alias Majid Butt; Kashmir-based Lashkar-e-Taiba (LeT) leader Abdul Malek alias Golam Mohammad; Huji founder Abdus Salam; and Huji leaders Maulana Tajuddin, Maulana Shawkat Osman, Maulana Abu Sayeed alias Dr Abu Zafar, Abul Kalam Azad alias Bulbul, Jahangir Alam, Maulana Abu Taher, Hossain Ahmed Tamim, Mufti Moinuddin Sheikh alias Abu Zandal alias Masum Billah, Rafiqul Islam Sabuj, Mohammad Ujjal alias Ratan and Mohibullah alias Mofizur Rahman alias Ovi were awarded death penalty.
LIFE TERM IMPRISONMENT
Tarique Rahman, BNP acting chairman; Harris Chowdhury, former political secretary to Khaleda; Qazi Shah Mofazzal Hossain Kaikobad, a BNP lawmaker; BNP leader Ariful Islam Arif, former councillor of DCC ward-53; Huji leaders Shahadatullah Jewel, Maulana Abdur Rouf, Maulana Sabbir Ahmed alias Abdul Hannan Sabbir, Arif Hasan Sumon, Hafez Maulana Yahya, Maulana Abu Bakar alias Selim Howlader, Mahibul Muttakin, Anisul Mursalin, Md Khalil, Jahangir Alam Badar, Md Iqbal, Liton alias Maulana Liton, Mufti Shafiqur Rahman, Mufti Abdul Hai and Ratul Babu were given life term imprisonment.