Bahrain Wins Gulf Cup For First Time in History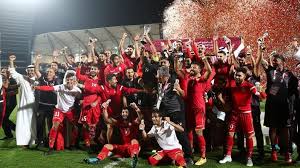 Bahrain has won its maiden Arabian Gulf Cup after defeating Saudi Arabia 1-0 in the final in the Qatari capital, Doha. Bahrain's Mohammed al-Rumaihi scored the Sunday final's only goal in the 69th minute of the match.
The Saudi Arabian team has a distinguished record in its confrontations against the Bahraini national team, as they have met in 35 games in all official and friendly competitions.
Saudi Arabia has won 19 matches, lost seven times and tied on nine other occasions against Bahrain.
Bahrain had sent 11 commercial airplanes filled with nearly 2,000 fans from the island Kingdom to support the national team on Sunday.
The Bahraini win is significant for the national team as they became Arabian Gulf Cup champions for the first time since the tournament started 50 years ago.