Awami League announced Election Manifesto-2014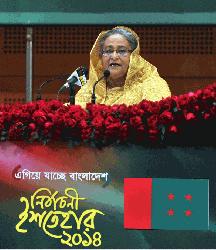 Bangladesh Awami League today announced Election Manifesto-2014 marking the 10th Jatiya Sangsad elections with a pledge to move forward the country to a peaceful democratic prosperous nation.
"Our final goal is, people's socio-economic emancipation and build a poverty and hunger-free developed prosperous country," president of the party and Prime Minister Sheikh Hasina said while announcing 26-point manifesto titled: "Marching Ahead Bangladesh: Road to Peace, Democratic Development and Prosperity."
Sheikh Hasina expressed her firm resolve to continue the pace of development of progress of the country in the coming years that her party pursued during her current tenure.
She said, all incomplete projects and development programmes initiated by the government would be completed at due time while priority would be given to those projects awaits finance.
Pointing out her party's plan to implement Vision 2021, Awami League chief said, the long-term perspective plan 2010-21 would be reviewed to make it consistent with the Election Manifesto- 2014.
Senior party leaders, members of civil society, freedom fighters, representatives of professional bodies, business leader, diplomats of different countries were present on the occasion at Bangabandhu International Conference Centre (BICC).