Bangladesh business community protests $10bn losses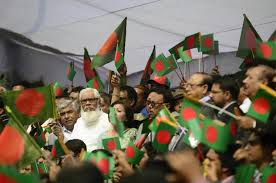 Thousands of business leaders protested in the Bangladesh capital on Sunday against a month-long campaign of anti-government violence that they say has cost the economy nearly $10 billion.
Garment factory owners and other business leaders joined hands and waved national flags in Dhaka and other major cities, calling for an end to the opposition-led strikes and nationwide transport blockade.
Protesters told the Dhaka rally the economy suffered 750 billion taka ($10 billion) in losses in the 33 days since opposition leader Khaleda Zia called the protests to try to topple the government.
"We've seen with great concern that non-stop blockade and strikes since the beginning of the year have crippled the economy," said Kazi Akram Uuddin Ahmed, president of the Federation of Chambers of Commerce and Industry.
"This situation can't go on any more. The businessmen's backs are now on the wall."
The garment sector, the mainstay of the economy, has alone lost nearly $4 billion as the campaign halts exports to Western retailers who are being forced to look to other countries to fill orders, he said.
On Saturday Finance Minister A.M.A Muhith said the blockade was having a "severe" impact on businesses outside the capital and the economy might not reach 7.2 percent projected growth this year.
Zia called the indefinite blockade of roads, railways and waterways after police confined the former two-time premier to her office on January 3 as she tried to mobilise protests.
Some 79 people have been killed in the violence, as opposition activists firebomb trucks, buses and cars to try to enforce the blockade.
Zia denies her Bangladesh Nationalist Party (BNP) party is behind the violence, but has vowed to continue the blockade until Prime Minister Sheikh Hasina agrees to new polls.
Zia leads a 20-party opposition alliance which boycotted a general election last year on the grounds it would be rigged.
On Sunday one person died in hospital in the northern city of Bogra after the bus on which he was travelling was firebombed. Officers shot dead a protester elsewhere, police said.
Ten people were killed on Saturday when protesters firebombed a bus and a truck in one of the deadliest episodes of the campaign.
Authorities have deployed thousands of troops and police to guard vehicles and more than 10,000 protesters have been arrested, but the unrest shows no sign of abating.
Bangladesh is the world's second largest garment exporter after China. The sector provides jobs for four million people, mostly women, and has spurred economic growth to over six percent a year in the last decade.