Bangladesh looking to send more skilled workers to KSA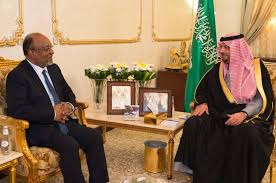 Bangladesh is exploring the possibilities of sending more skilled and semi-skilled manpower to Saudi Arabia to work in different sectors.
Bangladeshi Ambassador Golam Moshi has said his country wants to be the development partner to achieve the objectives of Saudi Arabia's Vision 2030. He was speaking after meeting with Prince Faisal Bin Khalid Bin Sultan, the emir of the Northern Border Province, during a visit to Arar on Tuesday.
Moshi said his talks with the emir were fruitful.
Economic Counselor at Bangladesh Embassy Dr. Mohammed Abul Hasan was also present at the meeting.
During the meeting, the emir praised the honesty and capabilities of Bangladesh workers in the Northern Border Province. He said Bangladeshi workers had been working with utmost sincerity and dignity in many different sectors in Saudi Arabia for long.
Moshi termed the relations between the two countries as a time tested and deep rooted with a common history, culture and religion.
He said Bangladesh had taken several initiatives to improve its manpower sector under the dynamic leadership of Prime Minister Sheikh Hasina. He sought the support of the Kingdom by recruiting more doctors, nurses, engineers and other skilled professionals from Bangladesh.
He said Bangladesh provided a one-month training to all workers on language, culture and basic skills before they left the country to work in Saudi Arabia.
The orientation program will help the workers cope with the new environment and give their best output, he added.
The ambassador along with visiting senior diplomats also met with Bangladesh expatriate community living in Arar and offered them assistance in consular and labor-relevant issues.
The mineral-rich Northern Border Province is source of raw materials for Bangladesh's fertilizer industry.
Saudi Arabia and Bangladesh are working to build a di-ammonium phosphate plant in Bangladesh that boost the country's paddy crop yield.