Bangladesh PM ready to work with new Indian PM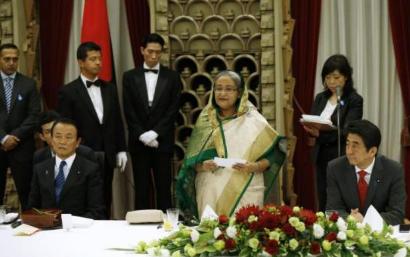 Bangladeshi Prime Minister Sheikh Hasina Wajed said she was ready to work with her new Indian counterpart Narendra Modi, despite his hard-line image.
Hasina, who is serving as premier for the third time, said she has dealt with four different Indian governments — "This is the fifth one" — and was keen to maintain a working relationship with her powerful and populous neighbor.
"He has his own ideas. Now he has become the prime minister of India, I hope he will also act as the prime minister of India," she told a press conference in Tokyo, on the fourth day of her visit to Japan.
Modi, sworn in Monday after a landslide election victory earlier this month, has an image as a hard-liner, even within his own Hindu nationalist Bharatiya Janata Party (BJP).
He is regarded with deep suspicion by many in Pakistan after deadly anti-Muslim riots erupted in his western fiefdom of Gujarat in 2002.
However, Hasina said Bangladesh has had good relations with India where differences have been resolved through discussions, such as concluding a treaty on water resources.
"What I believe is that through bilateral discussions, if there is any problem, we can solve it," she said.
She stressed the region shares a "common enemy" in poverty, which it needs to fight through economic development.
"Bangladesh's foreign policy is very clear. Friendship to all, and malice to none," she said.
Hasina also suggested that Bangladesh was ready to withdraw its rival candidacy against Japan for a non-permanent member seat on the UN Security Council, if Japanese Prime Minister Shinzo Abe were to visit her nation.
Abe, who met with Hasina on Monday, gave $5.9 billion economic aid.