Bangladeshi boy, 13, wins Dubai Quran Award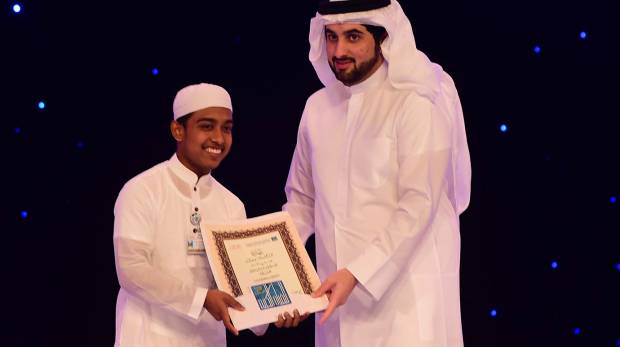 Bangladesh's Mohammad Tariqul Islam won the top prize at the 21st Dubai International Holy Quran Award (DIHQA) on Thursday.
Shaikh Ahmad Bin Mohammad Bin Rashid Al Maktoum, honoured Islam and other winners of the annual competition at a glittering ceremony at the Dubai Cultural and Scientific Association auditorium in Al Mamzar.
The ceremony also saw the honouring of the Islamic Personality of the Year, which this year was awarded to King Salman of Saudi Arabia.
Shaikh Saleh Bin Abdul Aziz Al Shaikh, Minister of Islamic Affairs, Kingdom of Saudi Arabia, received the Award on behalf of King Salman.
The 13-year-old Islam, who also got the fourth prize in the 'beautiful voice' category, walked away with the first prize of Dh250,000.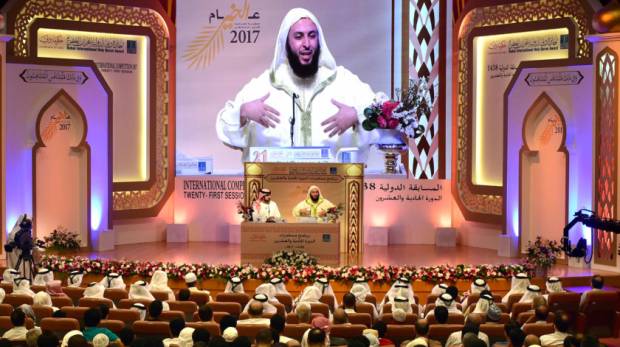 Islam performed on the ninth night of the annual Quran competition, leaving the packed auditorium at the Dubai Chambers awestruck with his powerful renditions from the passages of Quran.
Having topped several national competitions in Bangladesh, the Dhaka boy justified his tag as this year's favourite, leaving behind 89 other contestants.
Following Islam closely was the American contestant Huzaifah Siddiqui, who bagged the second prize of Dh200,000.
The 20 year old was the third American in a row to secure the second prize at DIHQA. Last year, 14 year old Adeen Shahzad from New York was joint second, while in 2015 Hamza Elhabashy secured the second place.
Siddiqui also grabbed the first place in the best voice category on Tuesday.
The third place was held jointly by Modou Jobe from Gambia, Abdul Aziz Al Obaidan from Saudi Arabia and Tunisian Rachid Allani, sharing the Dh150,000 prize.
Other winners
Others in the top ten are Muhanna Ahmad from Bahrain, who secured the sixth place, while Libyan Mohammad Alhadi Albasheer Najiyah and Kuwaiti Omar Alrefai bagged the joint seventh.
Ninth position was taken by Mauritanian Mohamedou Abeka, where as Habimana Makini from Rwanda and Mohammad Nageb Gado from Egypt got the joint 10th.
Participating in his first international competition, Islam couldn't believe his luck as his name was announced in a tense countdown.
"I just can't believe this has happened. I knew I had done well by the grace of Allah, I thought I will be among the top five, but winning the top prize is just unbelievable. I thank my parents and teacher for helping achieve this milestone," said the only son of a Dhaka-based imam completed memorising the Quran last year.
Currently studying the traditions of Prophet Mohammad (PBUH), Islam memorised the whole of Quran in just 12 months.
"I would like to study the Quran further and pursue a degree at the Islamic University of Madina. As I grow up I would like to work in spreading the Quran's message of peace and harmony," he added.
A record 103 contestants participated in DIHQA this year, with 13 candidates being disqualified due to poor quality of their performance in the preliminary round.